Dental implants can be truly life changing! But before someone considers dental implants, they should research both the factors that influence costs as well as the different ways to pay for implants.
How much do dental implants cost?
In the U.S., the cost of a complete single tooth implant generally ranges between $3,000 and $4,500. This total cost includes tooth extraction, implant, abutment and crown.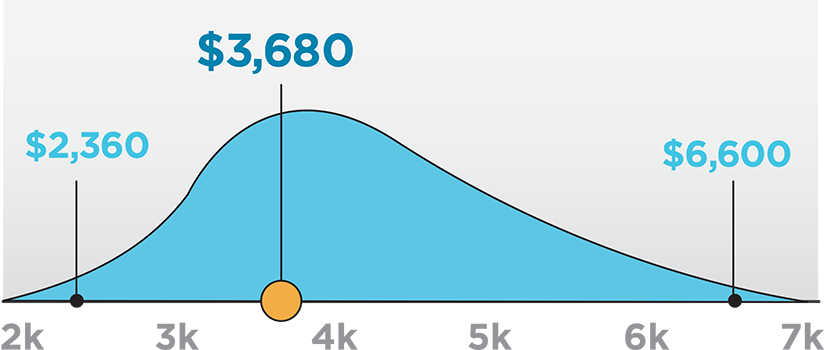 While the majority of single dental implant procedures fall into this price range, each implant case is unique and variable depending on the case itself. The overall cost of an individual implant case is heavily influenced by:
Number of teeth replaced
Number of implants required
Laboratory and final restoration requirements
Preoperative bone grafting
How many implants do I need?
In many cases, 1 implant replaces 1 missing tooth. That cost typically ranges from $3,000-4,500 total.
If a person is missing multiple teeth, more implants will be required. In some cases, the average cost of an implant ($3,450) can be loosely multiplied by the number of implants and crowns needed to fill in the space.
There are many unique scenarios within implant restorative dentistry that require different treatment options or more complex treatments. Some examples are:
Cosmetic implants (Smile Zone)
A front tooth implant can be especially challenging due to limited bone foundations and high cosmetic requirements. Because these implant cases require more time, appointments, and laboratory expense, the overall costs are slightly more than simple posterior implants.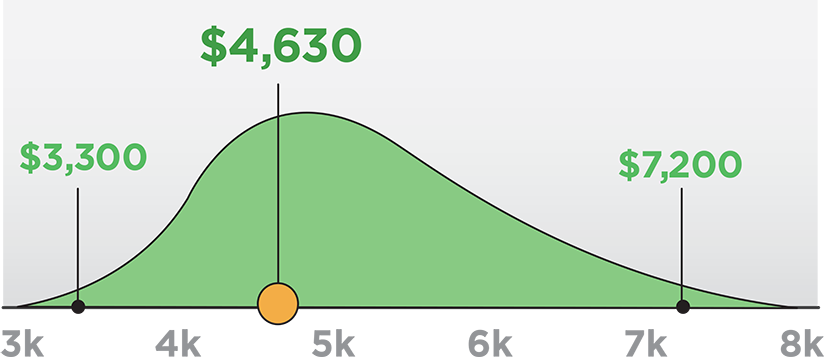 All-On-Four (AO4)
The All On 4 dental implant solution is for patients that are missing all of their teeth and suffer with dentures. Patients must understand that full arch implants and bridges are the only way to have real teeth again. These cases are definitely the most complex to construct and involve multiple implants overall.
Bridges (Sectional implants and bridges)
Fixed or cemented dental bridges function and look like natural teeth and are used to replace several teeth in a row. Removable partials are the alternative treatment.
Bone grafting (preoperative foundation buildups)
Without good bone foundations, implants cannot be done. Preoperative bone grafting is sometimes required before implants can be placed. The cost of bone grafting varies greatly.
Overdentures (full arch removable solutions)
Dentures, especially lower dentures, can move around and cause excruciating pain when chewing. An improvement over a traditional denture is an overdenture.
An overdenture is still a denture but it's secured in place by with dental implants. Implant anchors add stability to false teeth and keep them from floating around while chewing.
Mini Implants
Smaller diameter or narrow diameter implants are required when space is an issue or there is not much bone thickness. These implants offer alternative options for patients that otherwise could not have conventional implants.
What other factors influence the cost of dental implants?
In addition to the direct cost of the implants and final restorations, you will need to consider the cost of associated or preoperative procedures. You should ask your dentist if these costs are additional:
Initial oral evaluation/consultation
Dental x rays
Cone beam CT scan (CBCT)
Anesthesia/Sedation
What scans are required? Are they included in the price?
Historically, two-dimensional dental x rays (similar to standard dental bitewings and panoramic x rays), have been used for implant surgeries. Thanks to advancements in technology, many implant dentists can now take three dimensional x rays (CT scans) in their offices.
These x rays allow implant dentists to examine internal areas deep within the lower face. The better imaging in 3-D x rays lead to safer implant surgeries and reduce risk of complications.
While there can be additional imaging costs, x rays and CT scans are sometimes included in the cost of the oral evaluation or bundled with the price of the implant, abutment and crown. Be sure to ask your implant dentist if they are included or separate.
Is Anesthesia/Sedation included or an additional cost?
Simple or single implant procedures are often performed using only local anesthetic similar to routine dental procedures like fillings, crowns, simple extractions, and root canals. There are also hundreds of thousands of simple implant procedures performed where the patient desires oral sedation or I.V. sedation.
The decision whether or not to employ sedation is determined by the patient and the implant dentist. Patient anxiety, case complexity, and surgical procedure time all factor into the decision. There are typically additional costs for sedation and these costs vary widely, depending on the length of the procedure and depth of sedation required.
Bone grafting
Bone grafting builds up bone volume and creates a thicker foundation for the implant itself. This procedure is sometimes required to make the bone site stable enough for osseointegration and prevent implant failure.
If bone grafting is required, you will probably need to have this step completed first in order to create a foundation suitable for implant placement. Without proper bone grafting, osseous foundations can fail and dental implants can be lost.
The cost of bone grafting procedures can range anywhere from $200 to $2,000, depending on the complexity of the surgery, the size of the bone defect, and amount of bone graft material required. Although bone grafting is often necessary, insurance rarely covers bone grafts.
Do same day dental implants cost more?
Many dental implant offices or dental implant companies are marketing same day implants or "teeth in a day" procedures. These procedures can be done quickly, but not without increases to both cost and clinical risk. These issues must be considered when investigating dental implant options.
Almost all implant procedures are split into multiple visits. The complexity of your situation and the scope of your treatment dictates both the price and the timeline of the implant process.
How do you pay for dental implants?
Implant Evolution understands that for most people, the cost of dental implants is a significant investment. To decide how you will pay for that investment, you'll need to consider:
Insurance coverage
Out of pocket costs
Financing options
Dental implants and private dental insurance
According to the National Association of Dental Plans (NADP), approximately 164.2 million people in the U.S. have some form of private dental insurance.
While dental insurance policies often cover a significant portion of implant treatments, you need to recognize that dental implant coverage is plan specific and can vary greatly from policy to policy. There is no "across the board" coverage for implants, but there are common benefits that apply to many patients.
Understanding dental insurance coverage can be a daunting task, yet it is absolutely required when deciphering individual policy rules and benefits. This task can be a challenge for anyone who is researching insurance coverage for dental implants.
Most implant dentists can help patients understand specific insurance policy coverage for dental implants and final restorations.
Dental insurance, Deductibles and annual maximums
Most dental insurance policies have both yearly maximums (which cap the benefits payable in any given year), as well as a deductible that may need to be paid "out of pocket" before your insurance will begin to cover the cost.
Typically, the annual maximum amount for most dental insurance packages range between $1,000 and $2,500. This total amount can be used toward any dental treatment approved by the insurance company, including dental implants.
You will need to budget accordingly, knowing that you will have "out of pocket" costs even with dental implant benefits. These co-pay costs apply to every insurance policy and benefit package.
Dental insurance and coverage percentages
Private dental insurance policies pay out benefits according to the specific provisions outlined in the policy and procedures are typically grouped according to reimbursement percentages.
Implants and implant restorations are most often covered in the "Major" category, which most policies reimburse at a 50% rate. This also means the patient is responsible for the remaining 50% of the total cost of that specific procedure.
Dental insurance and specific procedure coverage
If an insurance policy does not cover implants, it specifically means the policy does not cover the actual dental implant itself.
Even if a policy does not cover dental implants, it may still cover the final abutment and crown procedures.
In this scenario, you may be able to still use your dental insurance to cover a large portion of the implant process, namely, having the abutment and crown placed.
Dental insurance and missing tooth clauses
A missing tooth clause is like a pre-existing condition clause in medical insurance coverage.
If the tooth was already missing before the policy became effective, insurance will not pay to replace the tooth with an implant or bridge. In other words, even if your policy would otherwise cover a dental implant, coverage could be denied due to a missing tooth clause.
Implant Evolution dentists report that approximately 70% of dental insurance policies do not have missing tooth clauses and pay well towards dental implants. Again, this issue is policy specific and must be addressed prior to initial treatment planning.
Alternative Benefits
Another barrier that patients sometimes have to negotiate is that some insurers may only cover an "alternative benefit," such as a removable partial denture. The reason for this is that partials are a more economical option and saves the insurance company lots of money.
Even though this option can compromise chewing function and lead to great patient dissatisfaction, insurance companies adhere to the policy specifics and use them to their financial benefit.
Predetermination and Pre-Authorization
Dental insurance companies encourage or require dentists to submit predeterminations for certain procedures, especially when considering dental implants. A predetermination outlines proposed treatment so that actual insurance benefits and payments can be confirmed or double-confirmed before treatment is started.
Again, keep in mind that every case is different, so resist the temptation to use what was covered for a co-worker or family member as a guide. As noted above, annual maximums, pre-existing conditions, deductibles and the like all need to be taken into consideration. Focused and detailed treatment planning is a must when considering dental implants.
Financing options for out-of-pocket expenses
Even though most dental implant costs are spread out over the entire course of treatment, there are still out of pocket costs that must be addressed.
Financing is also available via healthcare-related third-party companies like CareCredit, which offers no interest payment plans and extended payment plans, with plan options that range from three to 48 months.
Typically you can apply for third-party financing online and receive a credit decision within a matter of minutes.
Meanwhile, other financing options include:
Flexible spending account
Credit cards
Personal bank loans
Retirement plan loans
Home equity line of credit
Ultimately, payment plans and financing options can allow you to begin treatment immediately and pay for it over time in the form of low monthly payments. These financing sources make dental implants affordable for virtually all patients, especially those who have private dental insurance.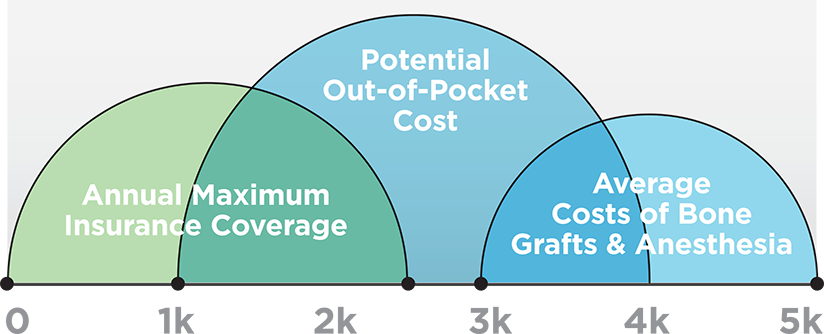 The Bottom Line on Dental Implants Costs
In summary, the total cost of your dental implant is going to be impacted most by your specific needs as a patient. You'll want to review your dental insurance plan in detail to get your deductible, annual maximum and pre-determination processes planned out.
With the average cost of all the related procedures of bone grafts and anesthesia totaling from $3,000 to $5,000 and annual maximum coverage ranging from $1000 to $2,500, you should know upfront that you will need to cover that difference "out of pocket".
The value that a successful dental implant can bring is life-changing but unfortunately, it's not an inexpensive process either.
Disclaimer:
The cost of dental implants depends on a diverse array of factors, which include: geographical area, the experience of the dentist or surgeon, the materials used, and the price structures of the dentist. We cannot guarantee that the prices your dentist will quote are within the price ranges provided above. In addition, the content of this page is for informational purposes only, and not intended to be a substitute for professional medical advice, diagnosis or treatment. Always seek the advice of your implant dentist or other qualified health provider with any questions you may have regarding your medical condition.