NUMBERS
I'm a dental office manager. I live and breathe numbers.
All kinds of numbers. The number of patients on the schedule. The number of productive appointments. The number of broken appointments. Insurance. Collections. A-R. Payroll. Accounting. Overhead. Bills. These are just some of the numbers that I have to constantly control. Maybe the correct statement is, they constantly control me! The task can be overwhelming, but it's crucial to our daily survival. It's not easy, but truly it is the lifeblood of our practice.

One of the reasons numbers are so daunting is that every dentist in America does tons of individual restorative and preventative procedures, and they have to use an inordinate number of CDT codes to get paid for these procedures. I bet it's the same at your office. So, if every dental office in the country has this same struggles, what are dentists doing to push back the growing avalanche of dental numbers? The short answer is, not much.

Implants are the cure for the avalanche of dental numbers
Implants?? How could that help our numbers? The answer is amazing, yet simple. Just start offering true and complete implant dentistry. That's it, no more, no less.
Consider these facts and forecasts on the implant market: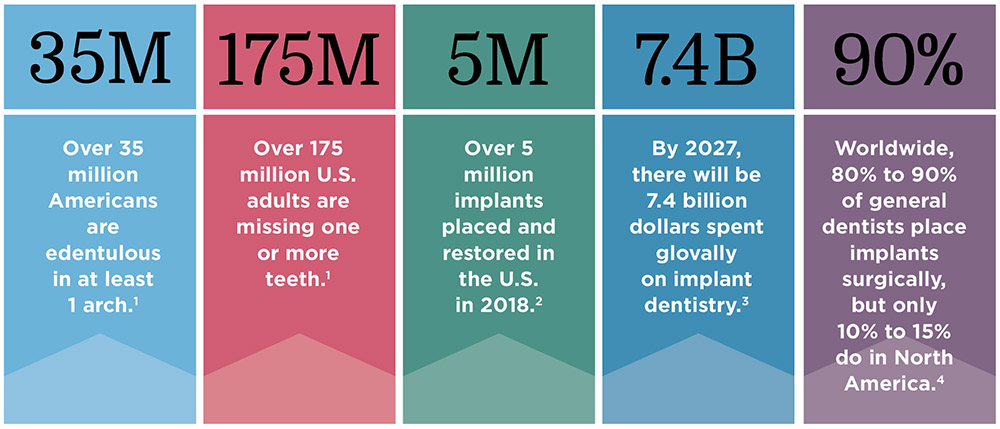 ARE DENTISTS READY?
The answer is simple, yet amazing! Plain and simple, dentists need to offer more complete implant treatments. Unfortunately, most dentist are oblivious to the financial benefits of adding implant treatments to their practice mix. The difference in profits per procedure when compared to regular operative is crazy. Think about it. A complete single implant procedure replacing tooth #19 has only 3 CDT codes and a total overhead of 35%. Compare that to endo, an MOD, a single crown, or even cosmetics and we are hard pressed to find a more profitable or beneficial procedure. It's a win-win situation for both the dentist and the patient. We all know the demand for implants is growing exponentially even though few dentists truly do comprehensive implant dentistry. Imagine what dentistry would look like if most dentists added simple implant procedures to their everyday treatments. The numbers would be astronomical! More patients would get cutting edge dentistry and dental practices would become more profitable. In actuality, it would completely change the world of dentistry, for both the patients and dentists.
The second issue of Implant Evolution is titled "Building An Implant Practice." The theme is based on all of the different aspects of implant practice growth from education to marketing to implant economics. All of these different numbers have a profound impact on the development and success of every dental practice in the U.S. and implants only make these numbers better.
Going forward, our column "Implant Economics" will cover many of the financial, managerial, and truly beneficial aspects of implant dentistry. Some of the future subjects will be:
1. Demographics – Which doctors are really providing implant treatments? What patients are getting implant treatments? Who are the patients that want implants? What does the future of dental implants hold?
2. The actual business of implants – Dental implant costs, fees, insurance benefits, patient finances, practice production, numbers of implants placed, overhead.
3. Combating PPO's– The U.S. dental marketplace is being increasingly controlled by insurance companies looking to squeeze dentists and patients for better profit margins. Implants help level the playing field dramatically for both patients and dentists..
4. Implant companies and suppliers – Industry leaders, market drivers, future growth, how they affect the market, how do they affect you, the treating dentist.
5. Education and Training for practicing dentists – Courses, conferences, costs, time requirements, online education options.
We hope that our future discussions of implant numbers inspire more dentists to consider adding comprehensive implants to their services and take their practices to the next level. look. So be sure and look for the upcoming conversations in Implant Economics as we try to give definition and financial clarity to the wave of implant dentistry!