If you are considering dental implants, there are a number of criteria you should consider when searching for the right implant dentist. Patients are often surprised to know that there is no such thing as an official "Dental Implant Specialist". Legally, any U.S. dentists with an active dental license can surgically place and restore implants as long as they perform to the standard of care. These nebulous qualifications can lead to confusion, misunderstandings, and even disappointing results for those searching for new teeth. When searching for the right implant dentist, there are several specific criteria patients should look for to help them select the best provider for their specific situation.
1. Education and Training
There are many different ways a dentist can learn and train in both the surgical and restorative aspects of implant dentistry. Another little known fact is that most dental schools offer very little in the way of implant training! Most implant dentists spend many years and tens of thousands of dollars for post-doctoral continuing education so that they can become true implant dentists.
Because of this dynamic, there are a number of different education venues where dentists can go and train to become implant dentists. Post graduate and specialty residencies are common ways for dentists to learn to provide complete implant dentistry. Also, academies such as the AAID, AACD, or ICOI exist to educate and train dentists in the latest techniques that can be used for implants and restorative dentistry. These academies offer board certification accreditations for those that pass stringent written and oral exams. These specific certifications are considered to be the highest credentials in the area of implant dentistry and give credibility and authority to those dentists that achieve these honors.
2. Experience
Implants have been used for over 50 years and there are many dentists with decades of experience. A dentist that routinely places and restores implants has an enormous amount of exposure to both successful cases and also those with complicating factors, such as smoking, diabetes, and medications. Most implant dentists do a wide variety of implant procedures such as oral surgery, bone grafting, implant placements and final restorations. Additionally, dentists that perform many different procedures also gain advanced knowledge that is incredibly valuable when complications do arise.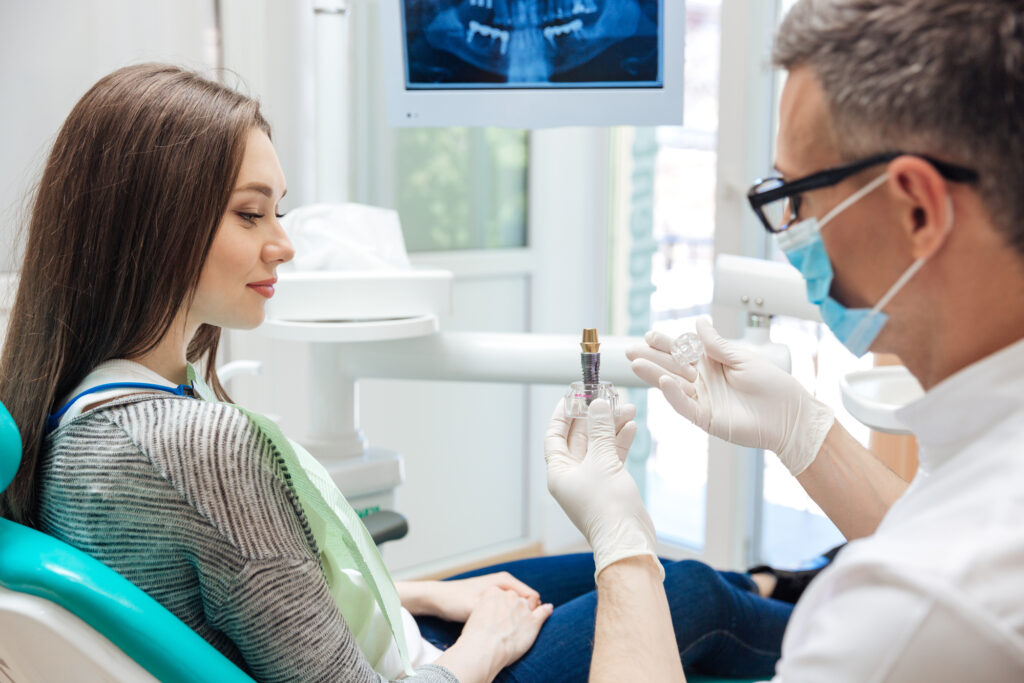 3. Pictures and Case Presentations
Cosmetic dentists are able to document cases and results with clear transparent photography. These presentations are an invaluable tool for patient education and all implant dentists should also consider using this technique. Implant dentists should also use actual case presentations (before and after) to educate their patients about their options, procedures, and outcomes. While it does take more work on the part of the dentist, the photographs, X-rays, and videos offer patients a clear and transparent picture of the implant journey, and more importantly, the final results. Keep in mind, a picture is worth a thousand words!
4. Technologies
Compared to just 10 years ago, dental implant technologies have progressed to the point where every dentist has easy access to the most advanced equipment available in the world. The use of CT (cone beam) 3-D scans and computer aided designs (CAD) have completely revolutionized the way modern dental implants are created and delivered. Old school 2-D X-ray films are a thing of the past. Now, dentists routinely have CT cone beam scanners and digital X-rays in the office that are used every day to diagnose and treat patients. Computer guided surgery is now being implemented on a daily basis, leading to more accurate results surgically and better outcomes overall. These improvements dramatically increase the overall success rates and also deliver results with significantly better patient satisfaction.
5. Patient Reviews
It is well known that not all patient reviews are completely legitimate. In spite of this fact, patient reviews can offer a basic snapshot of the provider's branding and overall reputation. Consistent positive patient reviews can serve as a GPS for those patients searching for a capable implant dentists in their area. Successful procedures, patient satisfaction and genuine patient reviews can give anyone a great roadmap to choosing the right implant dentist for their problem of missing teeth!