If a person is thinking about dental implants, they might ask themselves, "What are implants made of?" At Implant Evolution, we think this is a very logical question that is actually very intelligent in nature. If we are going to have a foreign object placed into our body, shouldn't we know what its made of? Why is this material the best? What are the benefits? Are there problems associated? What are there other choices? How long do they last? These are just some of the questions people have when considering dental implants.
What Are Implants Made Of?
Fun Fact: 99.9% of dental implants in the world are made of surgical-grade Type 4 or 5 titanium alloys. These metals are identical to the metals used in orthopedic joint replacements for knees and hips. One of the reasons for using these allows is that osteocytes (bone cells) like titanium and actually grow towards the implant surface, helping to lock the medical device in place with amazing foundational strength. This process, called osseointegration, basically fuses the implant to the bone and is the key to dental implant success.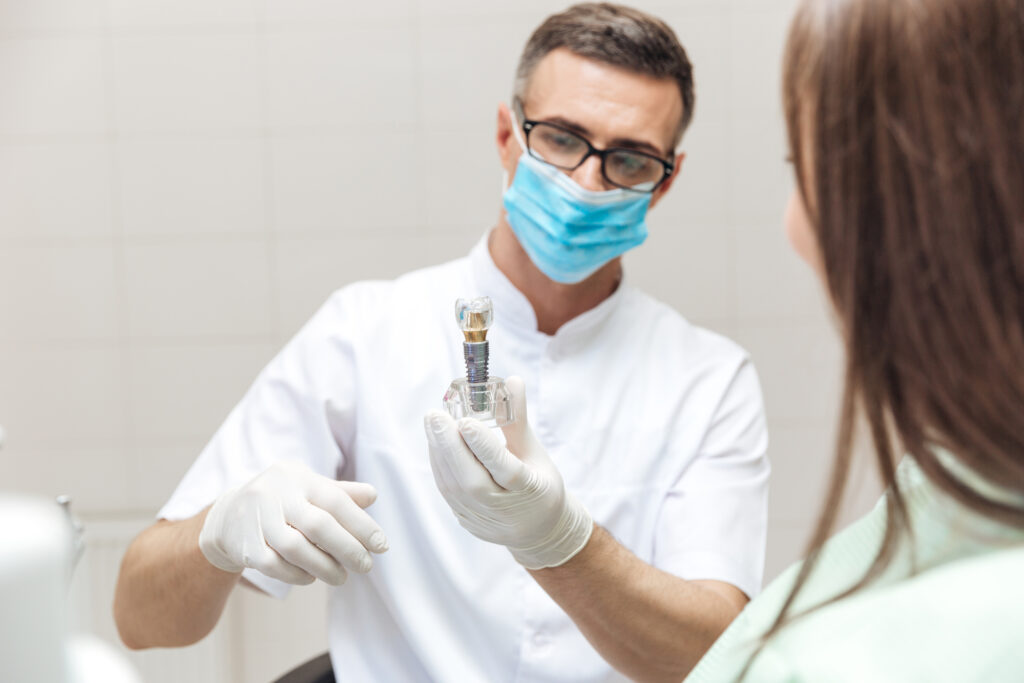 After 100 million successful implant cases worldwide, it has become abundantly clear that titanium is far and away the best material available today. Other materials, such as zirconia, are becoming more popular but are still rarely used. Some of these reasons titanium is so biocompatible are because of its corrosion resistance, tensile strength, non-magnetism, and its overall light weight. All of these characteristics lead to titanium being the material of choice and the best option available today for dental implants.
What Are The Benefits of Titanium?
All of the before mentioned benefits are clinically important, but there are other additional benefits to using titanium. Titanium is abundant, inexpensive, and easy to manufacture. These 3 benefit help make titanium implants available to the entire world.
How Long Do Implants Last?
Clinical studies show that successful implants can last for decades with proper home care and routine cleanings. There are many patients that have been chewing on titanium dental implants for over 30 years! These results solidify the fact that implant dentistry is far and away the best solution for missing teeth.
Are There Problems With Titanium?
As a general rule, dental implants are made of high-grade surgical titanium that functions well under everyday chewing forces and can potentially last for decades. Implant fractures are extremely rare and typically occur in very small diameter implants. Otherwise, titanium has few other problems overall. Titanium serves as the idea material for replacing missing teeth in the strongest manner possible today.