Dental bridges have been used for decades to replace missing teeth and are still used today with great success. As you'd expect from the name, a dental bridge serves to bridge the gap between one or more missing teeth, with the bridge supported by natural teeth or implants on either side. While bridges are affordable and don't require surgery, they are not as natural looking as implants and may require damaging adjacent teeth.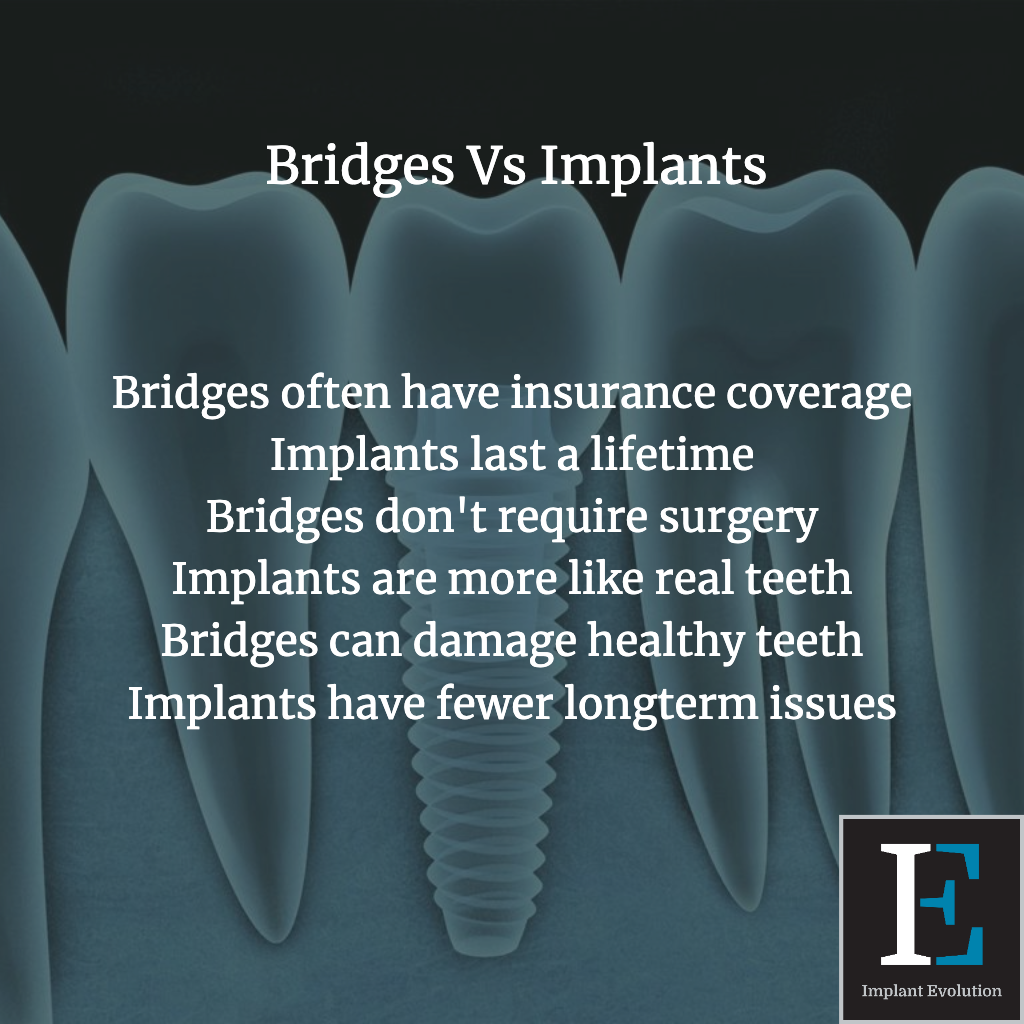 As a result, dental implants are the most logical way to replace a missing tooth, as they closely mimic natural teeth in form and function. Though implants can be more expensive than bridges and require surgery, they have fewer complications and can last a lifetime, while also preventing bone loss. Unlike a bridge, an implant doesn't damage or strain other teeth.
Which solution is best for you, specifically?
That can only be determined with a dental examination, and by talking with your dentist about your needs and expectations, not to mention your budget. Generally speaking, a dental implant is the best solution for a missing tooth, but implants require surgery and can be more costly than bridges.
Bridges are still used with great success even though studies show implants can last a lifetime. Even with extensive long term success, tooth supported bridges inherently have more problems that dental implants over the long term. 
Weigh The Pros And Cons
Both dental implants and bridges have their own pros and cons. Implants are usually the best solution if you're missing one or more teeth because implants are a permanent solution, and the addition of implants can actually prevent or even reverse deterioration of your jaw bone. It is important to consider that implants do require surgery, cost about the same as bridges, and the process of getting implants is much longer than the process for getting a bridge.
The biggest advantage of bridges is that they are relatively inexpensive. Dental insurance policies usually have significant coverage for tooth supported bridges but it is important to remember that adjacent teeth must be damaged in the process of installation. A bridge may also put added strain on surrounding teeth, which can lead to additional dental issues.