There are a lot of unknowns when it comes to getting a tooth replaced with a dental implant, and we want to make sure we're doing our best to educate those with questions with the answers they're looking for online. One that seems to come up quite often is about day to day life with a dental implant…
Is There A Noticeable Or Distinct Smell From A Dental Implant?
Generally speaking, the answer is no, there is no attributable smell or odor that comes from a successful dental implant once it's fully healed and integrated.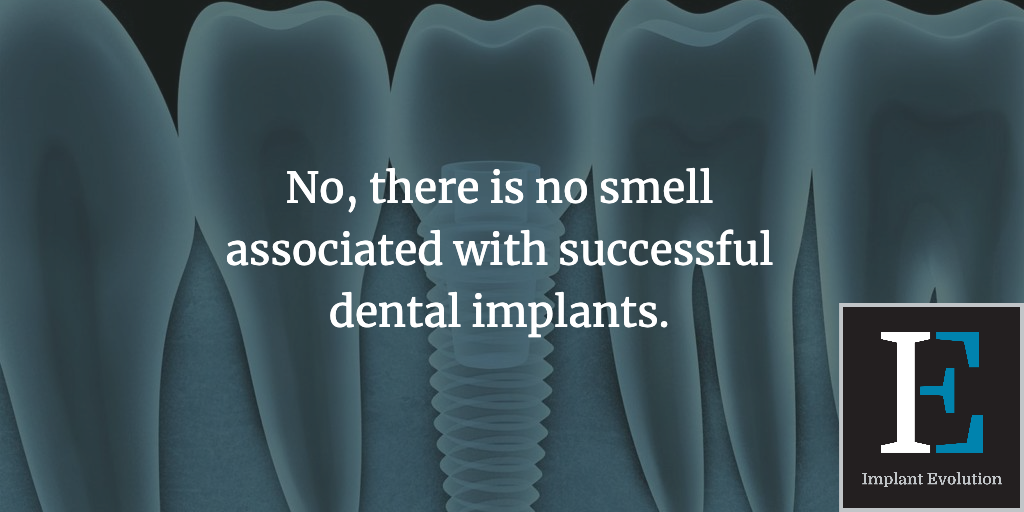 If you notice a smell after getting a dental implant, it's possible that you have an infection. Other signs of an infection may include red or swollen gums, throbbing or discomfort around the implant, or a dull ache, fever, or bleeding around the implant.
What Happens With A Dental Implant Infection?
An infection that occurs within a few weeks after surgery is typically treated with an antibiotic and a special mouth rinse, though other treatment options may also be utilized. The best way to avoid infection is to brush and floss; if you still notice a smell after carefully brushing and flossing, you may have an infection and should make an appointment with your implant dentist as soon as possible.
What Is Peri-implantitis?
This is a condition that can occur in tissues around dental implants, one that is characterized by inflammation and progressive loss of supporting bone—can also lead to an unpleasant smell or bad breath.
Patients who exhibit poor plaque control habits and are less diligent about maintenance have an increased risk of developing peri-implantitis. If left untreated, peri-implantitis can lead to implant failure and serious medical consequences.